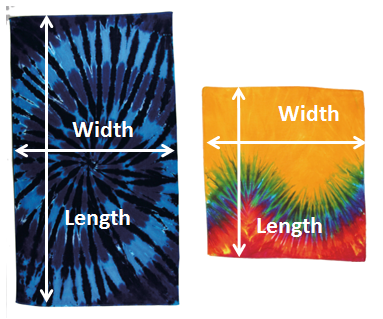 Beach Towel
Mid weight 100% cotton sheared woven terry towel
Size 34 X 60 inches
Bandana
100% Cotton
Size 20 X 20 inches
It is a given that all 100% cotton garments will shrink. In addition to the manufacturer's pre-wash sizing information, we provide size measurements after we have dyed, washed, and dryed the garment to further assist you in selecting the best size for you. (Please see sizing disclaimer below.)
Beach Towel is a mid weight 100% cotton sheared woven terry towel. Bandana is 100% cotton.
On a phone slide across a table to view additional columns.
Item
Manufacturer's Pre Washed Sizing
Post Tie Dye & Washing Size
Width
(inches)
Length
(inches)
Width
(inches)
Length
(inches)
Towel
34.0
60.0
NA
NA
Bandana
21.0
21.0
NA
NA
** SIZING DISCLAIMER **
This Gildan 2400 size chart is provided as guideline for sizing purposes. The pre wash long sleeve t-shirt size chart is provided by the garment manufacturer and most manufacturers have tolerance variations anywhere from 0.5 to 1.0 inches on the dimensions listed here. Additionally, all shirt manufacturers reserve the right to change their size dimensions at any time without any prior notice.
The post wash sizing information is not intended to be exact or precise. The amount of post wash shrinkage in 100% cotton garments is highly variable. We provide this information in the spirit of assisting you in your sizing selection but it is not considered to be perfect nor do we consider shirts that do not match this sizing information to be defective.